Digital transformation has sparked a host of IoT devices that are bringing connected experiences to our homes and our lives. Smart speakers, for example, continue to rise in demand, with 51 percent of people saying they currently own a smart speaker or intend to purchase one soon, according to our State of Play 2020 Report But this is just the beginning — with the technology to enable smart displays, we're enabling new categories of connected devices such as fitness machines, mirrors, interactive displays, and more.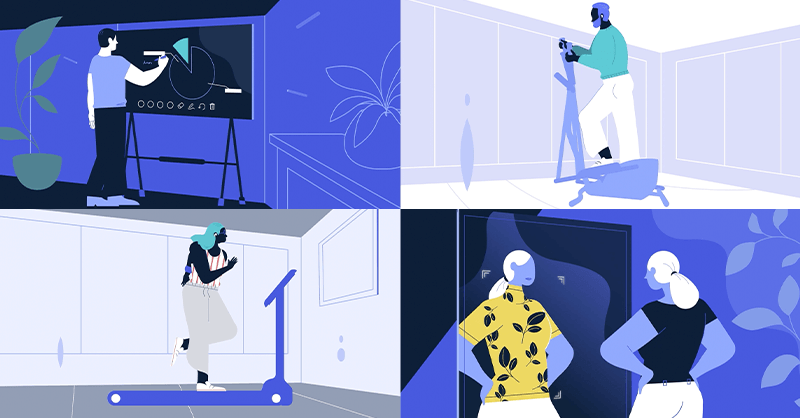 Take a stationary bike, for example. On its own, it's a solitary way to pedal and increase your heart rate. Combined with a smart display, however, a stationary bike transforms into an immersive workout experience, allowing you to virtually ride trails from across the globe, follow a professional instructor, and even connect and compete with other riders in real time. Camera and video capabilities make it possible to have live two-way conversations with trainers, and even AI assistants that can help correct posture, positions, and alleviate injuries. And of course, connectivity makes all of this possible.
Already, our technologies are powering this kind of stationary bike, connected treadmills, and other intelligent fitness equipment. With these connected capabilities, they're not just machines, but fitness experiences that deliver the feeling of a personal training session, building a community in a fitness class, or sharing a hobby with a friend.
Beyond the above example, these smart displays are also being integrated into a variety of devices, with the capability to move into additional new categories. Our technology packs devices with advanced features, including voice UI, premium audio, touchscreens, cameras, 4K video, and cloud services. Of course, they're not just connected but also intelligent, featuring AI-powered smart assistants, live video callings, and functionalities, like the ability to track workouts in real-time with others and make posture adjustments and fitness suggestions.
Our IoT solutions are connecting previously unconnected devices, and are helping reimagine how the world works, plays, and lives. From smartphones to laptops and even treadmills, we're continuing our decades-long work to improve how the world connects, computes, and communicates.
This article was published original at Qualcomm Newsroom